Deborah Akello is a force.
If you get her speaking on the subject of marginalized Women and Girls, you'll feel like pulling up a podium and finding an audience. She's passionate, brilliant, articulate and determined. Deborah graduated 8th in her class from Ugandan Christian University Law School, a private university in Kampala, through a sponsorship program called Village2Village. While Deborah is from a remote rural village, and grew up in poverty, her peers at university were the children of government officials, and leaders at large NGO's. To this day they don't understand why she has chosen to return to her village, and dedicate her life to practicing law on behalf of the poor and marginalized.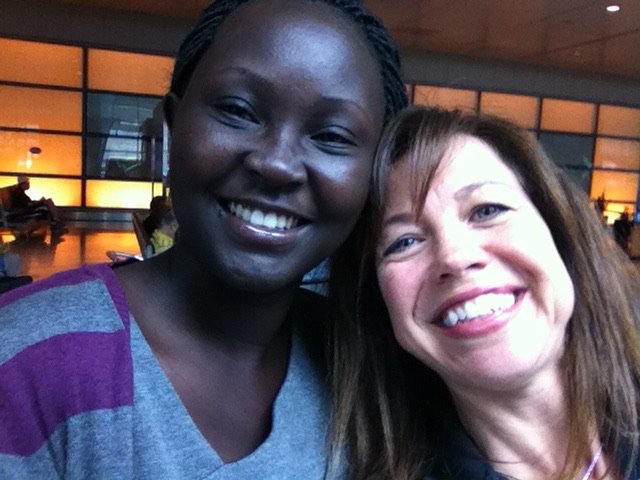 I met Deborah in 2011 in Uganda, while traveling for non-profit volunteer work. She was in her first year of law school and I remember chatting after dinner over tea, when she told me about her DREAM to defend WOMEN and GIRLS like herself, in her village of Serere. She told me that since high school it had been her PASSION to be able to use her education to bring justice to situations and locations where Justice isn't attainable; to her HOME VILLAGE of Serere.
Sitting around a dingy table in an apartment in Kampala, heat from the day trapped inside by latched windows keeping the malaria carrying mosquitoes at bay, I remarked that it seemed inevitable that she would have to start an NGO/Non-Profit to achieve her dream of defending those that could hardly manage to feed their families let alone hire an attorney. We spoke about HER DREAM every time I visited with her, including the two times she stayed at our home in the United States. When I asked her how she processed visiting the USA, wondering if she, like so many others, felt the tug to move, she told me that it was HER CALLING to stay in her home country and to give back.
So in 2019, having graduated from law school, passed the bar exam and registered as an attorney, when Deborah mentioned in one of our conversations that she had finally started her NGO, WAGRAU (Women And Girls Rights Advocacy Uganda), I could not have been more thrilled for her! She had written and received several grants from larger NGOs that gave her the boost she needed to BEGIN, and provided training for her, including how to run and manage an organization, including best practices, and important legal structures.
I have been involved in several entrepreneurial ventures in my lifetime, so – like all people with an entrepreneurial itch, I couldn't resist the excitement of encouraging her, and volunteering to help her.
Deborah felt passionately about further EMPOWERING women and girls – not just defending them in court. She realized quickly that legal help alone was not enough. Who can defend a marginalized woman and send her away without the ability to pick herself up?
Or the teenaged girl who was raped and left with an unplanned pregnancy, and then kicked out of her family home?
Or the widow whose rightful land had been taken away from her, when her husband died?
No, Deborah wanted not only to defend them and mediate on their behalf in court, but to INVEST in them, and EMPOWER them, so that their lives, and the lives of their children and grandchildren could move in a positive direction. That they would become self-sufficient, able to support themselves, understand their legal rights, and have the hope to PLAN for a FUTURE. Most importantly she wanted to give them HOPE.
After seeing all that Deborah was accomplishing on her own, I began supporting WAGRAU personally by sending support from the United States. At the time, the gift wasn't yet tax deductible, (because a US nonprofit had yet to be created), however, I could see the money she had been granted by larger organizations being well spent.
Finally, after the complexities of the pandemic, I traveled to Uganda (my seventh trip in 12 years) to see all of the work that had transpired over the past four years, with my own eyes.
And I was truly impressed.
WAGRAU had developed a respected PRO BONO law office in Serere, Uganda for Women and Girls.
As women and girls hear word from previous clients, local officials, and even the police — that there is a woman, a LOCAL woman, named Deborah Akello, who is representing women and girls for FREE, PRO BONO, everyday there is another woman, another girl, and their stories of hardship, heartbreak and injustice. Sometimes, because locals are not used to a marginalized woman or girl being represented, all it takes is a phone call or a letter demonstrating that they are represented by legal counsel.
WAGRAU had started a tailoring school to train young women to support themselves through tailoring (a viable trade in an area where you can't go the store to buy a dress in a size 8).
Deborah hired a credible tailor and teacher, who is not only excellent in her trade, but compassionate and empathetic to the young women and girls she teaches. While in Serere I visited with a cross section of graduates from the program in their homes, at their new tailoring shop in their local village. (After WAGRAU's intensive 3 month training, many of these young women are now not only supporting themselves but also paying school fees for their younger siblings!) It was also my privilege to witness the THIRD class of TAILORS graduate from WAGRAU'S program, along with their family members, hooting, and cheering them on for their accomplishments.
In addition to the training program, WAGRAU created a short term housing option for young women or girls in crisis, AND…
WAGRAU created and facilitates 5 Economic Empowerment groups for Women. There is a group of women cultivating Sesame Seeds and Maize on land WAGRAU provides so they are able to save the money and spend it wisely on things like education for their children. There is a group of older women raising pigs who produce many piglets that they can sell. An energetic group of women determined to do more challenging and profitable work typically done by men, has taken on brick making. All with seed money, guidance and oversight from WAGRAU. Together they have saved and provided for their families, while supporting one another "in community".
WAGRAU has developed strong relationships with local leaders in government, court, police and local organizations to facilitate COMMUNITY ADVOCACY workshops to educate women and girls on their legal rights.
The list goes on.
I'm proud to stand with Deborah, by forming a USA Based Non-Profit 501c3. Now WAGRAU in Uganda can receive tax deductible donations – with the simple click of a button.
I hope you will consider joining ME and become a monthly supporter of WAGRAU and women and girls in rural Uganda.
Go ahead, try it. Click here to donate.
Deborah, keep on pursuing your dream!
I'm here, along with our USA Board of Directors and supporters to cheer you on, lend a hand, and spread the word.
Sandra Martin
Board Chair
WAGRAU
USA